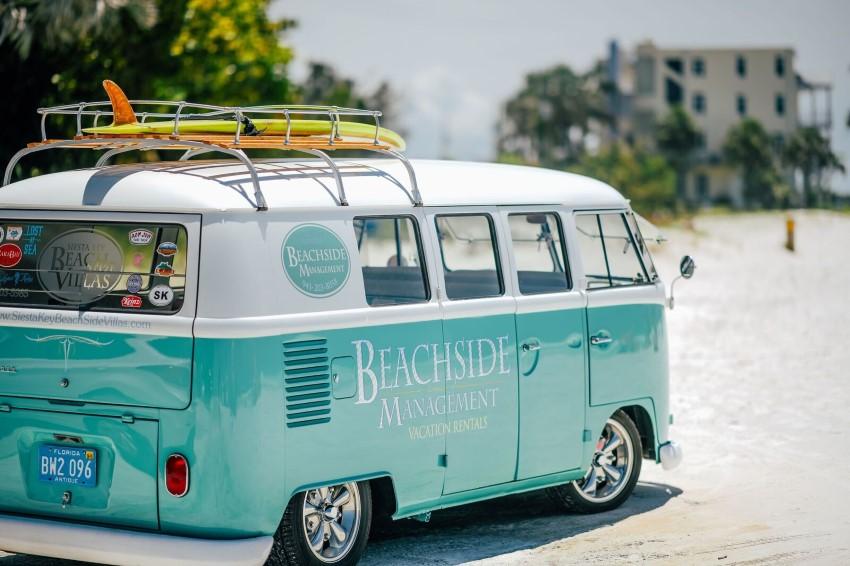 What an absolutely amazing time on Siesta Key! Even with the red tide still hanging around a little, it did not hamper our beach time at all. The beach was beautiful and clean regardless. We stayed at Cottage By the Sea ,it was amazing in every way. We couldn't have asked for anything more! Free beach chairs and towels to use.. full kitchen, full bath room, super comfortable bed, a little porch to hang out on…The staff and the accommodations were excellent! The cottage was perfect for 2 and just a short walk to the beach, all the shops,restaurants,and bars. Free rides available too. We'll definitely be back!!! Thank you Beachside!!!
– Kelly Flynn
Great place! Very clean and comfortable! We were really happy with it! Great GREAT location for both the beach and walking to the shops/restaurants!!!
Only one tiny complaint would be how easy it is to hear everyone walking around upstairs. It was very loud. But we didn't spend much time in the room, we stayed at the beach as much as possible! 😉
– C.R Mullinax
This place is amazing. We were first timers and the location from the beach and the village as well as the fact that it came with two beach chairs and free bike rentals was awesome. The pool was small but perfect for us and we loved everything about our stay. If I had one negative to thing to say it would be that I wish the AC was better but I mean it's Florida. You know it's going to be hot and it wasn't that big of a deal.
– Tiffany Porter
We have been staying at Sea Club 2 for over 20 years. It was a different experience this year with Beachside Management but the process went very smoothly. Everyone was extremely friendly.
– Nancy Nastold
Fantastic experience allowing Beachside Management to find me a perfect sunset getaway. Upon calling the Beachside, I explained my needs as I was coming to Siesta Key to visit my mom who had suffered a stroke. My mom resides in Sarasota and I was traveling from Chicago. I explained that I wanted a place on the beach where mom would feel as if she was away on an island vacation. Beachside Management explained all the amenities and event went as far as ensuring my moms needs were met! 5 Stars!
– Holly Arnold
What a wonderful place! Everything we wanted or needed right at our fingertips! We will definitely return! Thank you so much for making our family vacation a dream come true!
Thanks Again!
– Waterman family